Arctic Human Development Report I
Arctic Human Development Report
Þróunarskýrsla  norðurslóða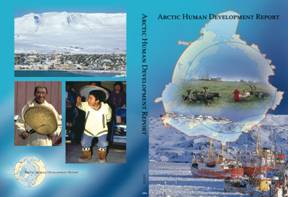 About the Report
The Arctic Human Development Report is the first comprehensive assessment of human well-being covering the entire Arctic region.
Mandated under the Arctic Council's 2002 Ministerial Declaration as a "priority project" designed to provide a "comprehensive knowledge base" for the work of the Council's Sustainable Development Programme, the AHDR was a centerpiece of the Icelandic Chairmanship of the Arctic Council during 2002-2004.
The report contains 11 substantive chapters, an introduction, a conclusion and a Summary of Major Findings. Based on contributions from some 90 scientists located in all the members of the Arctic Council and coordinated by a secretariat based at the Stefansson Arctic Institute in Akureyri, Iceland, the report offers a wide-ranging scientific assessment of achievements and challenges relating to human development in the Arctic.   
According to the AHDR,  "Arctic societies have a well-deserved reputation for resilience in the face of change. But today they are facing an unprecedented combination of rapid and stressful changes" involving both environmental forces like climate change and socioeconomic pressures associated with globalization
Under the circumstances, it is particularly noteworthy that the "… Arctic has become a leader in the development of innovative political and legal arrangements," including co-management regimes governing the use of natural resources, collaborative arrangements designed to facilitate cooperation between public governments and indigenous peoples organizations, and transnational arrangements like the Northern Forum and the Arctic Council itself.
English Version
The printed version is not available any more. You can view the contents of the report .
Russian Version - Русская версия
A Russian version of the report was published in 2007. You can view and print its contents .

Finnish Version
A Finnish version of the report was published in 2007 and is available here.